Happy 2023 from Vossberg Gainor and Pickleball in the Sun! A message from me as a thank you for an incredible year and I couldn't be more excited for what's to come in 2023:
OUR TOP 15 PICKLEBALL HIGHLIGHTS FROM 2022
In no particular order, below are my top 15 pickleball highlights from 2022 where I either had the opportunity to coordinate an incredible media feature to bring America's fastest growing sport into the spotlight, or I was personally able to play the game we all love and enjoy the Pickleball in the Sun lifestyle.
1. NBC NIGHTLY NEWS WITH LESTER HOLT: KIDS EDITION
When the producers for NBC Nightly News with Lester Holt: Kids Edition called I was ecstatic to be able to bring together more than 30 kids from our local Nocatee community to play pickleball and showcase why this sport is such an incredible opportunity for kids to get healthy exercise and socialize with their friends. A special thank you to my Nocatee friends who participated in this and brought their kids to the courts.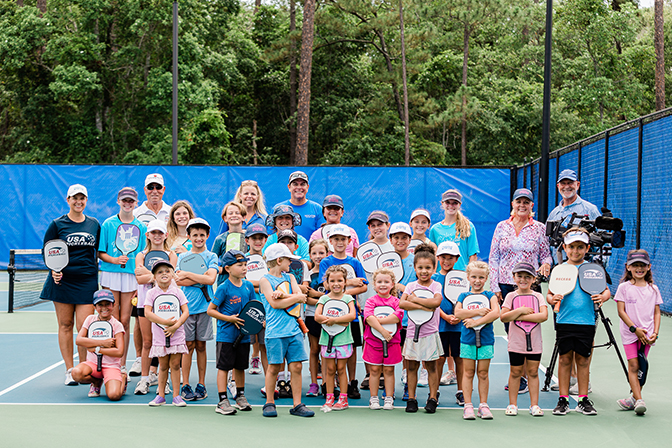 2. GOOD MORNING AMERICA
Just a day after NBC called, ABC's Good Morning America producers called with an interest in having their on-air crew play pickleball for a live feature. Thankfully, the Nocatee community rallied together again and immediately came to the courts to play for the GMA camera crew to create another incredible feature for the sport. Eva Pilgrim and Will Ganss did a live shot from the Brooklyn Bridge Park courts as USA Pickleball ambassadors, Paul Curiale and Amote Sias, gave them a lesson in how to play the game.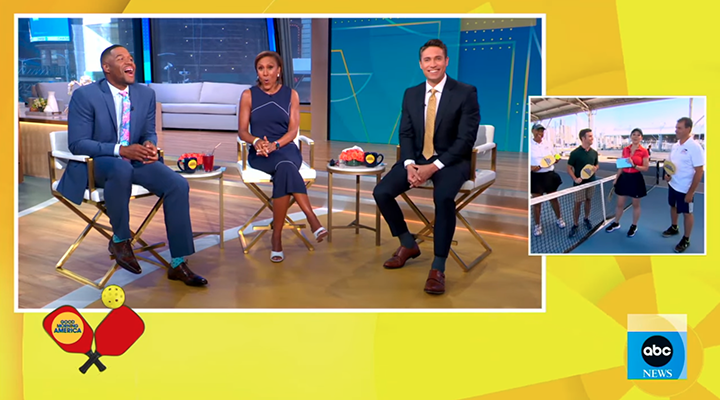 3. MAREN MORRIS PICKLEBALL MAGAZINE COVER STORY ON JIMMY KIMMEL
When Maren Morris posted a tweet this past summer of her and her crew playing pickleball next to her tour bus, I took a shot and messaged her team through her website to see if they would be interested in doing a cover story for Pickleball Magazine about her love for the sport. They immediately got back to me and I had the incredible honor of getting on a call with Maren to talk pickleball and her creating a court on each stop of her tour.
Shortly after the story was published, we then got a call from the Jimmy Kimmel Show wanting a copy of the issue to feature on air as they interviewed Maren. Thanks to some friends, a courier got an issue in their hands and not only did they show it on air, they talked about the story for more than 3 minutes and Maren gave me a shoutout, knowing I was freaking out as they zoomed in on my article.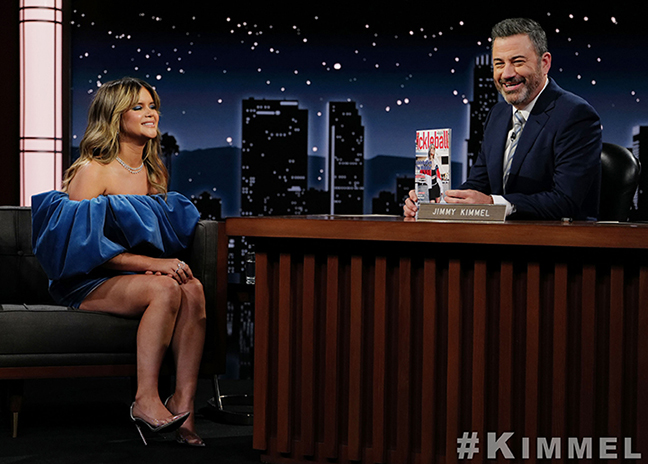 4. Pickleball Marketing Feature with Marketing Brew
"Pickleball took off during the pandemic, thanks in part to marketing efforts from brands and the sport's governing body, which was recently given a facelift."
I got the opportunity to talk with the Marketing Brew about the work Vossberg Gainor did to help USA Pickleball with their brand relaunch in 2020 and marketing tactics we used to help get the sport into the spotlight.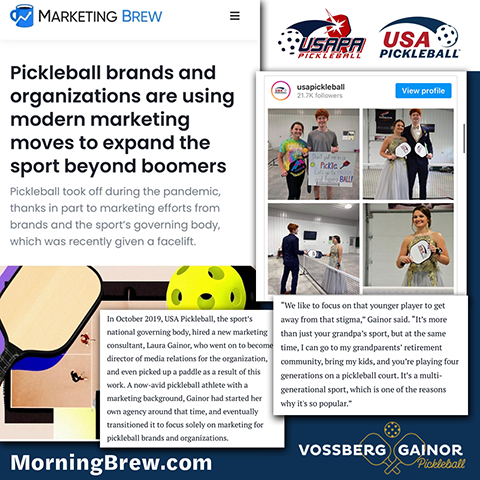 5. ADAGE FEATURES PICKLEBALL AS TOP MARKETERS OF THE YEAR
As I feel privileged every day to have started the world's first ever pickleball marketing agency, being contacted by AdAge to talk about marketing the sport as they featured pickleball as #9 on their "Marketers of the Year 2022" list was an incredible honor.
"Pickleball mania has been on a steady climb since 2020, when people increasingly turned to the quirky racket sport as a pandemic-era social activity. But 2022 marked a major turning point in pickleball's growth, with an influx of brands beginning to incorporate the up-and-coming sport into their marketing strategies. "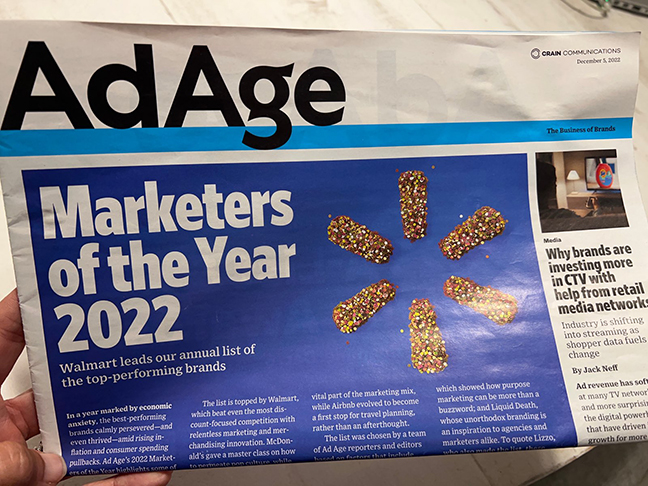 6. SPORTS BUSINESS JOURNAL FEATURES PICKLEBALL AS A SMASH HIT COVER STORY
Over the years, I've had the opportunity to work with many talented photographers to showcase the sport, and one of those is the talented Steve Taylor. His incredible shot of Jay Devilliers was featured on the cover of the Sports Business Journal for their "Smash Hit" story on America's hottest sport as we worked with their writer, Chris Smith, on a story featuring the various leagues in the sport.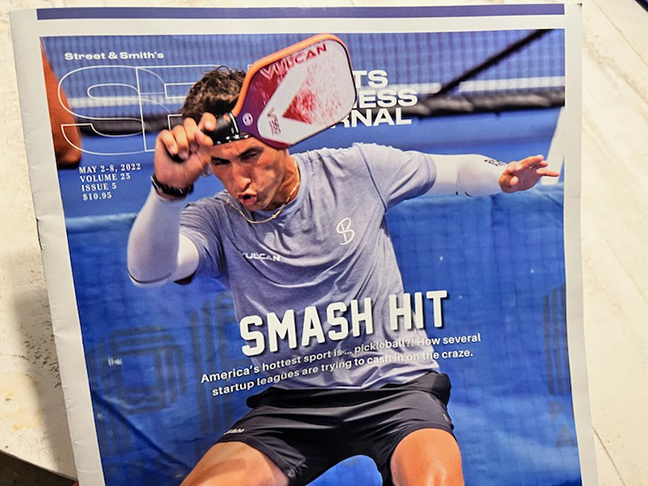 7. PICKLEBALL MAGAZINE FEATURES PICKLEBALL IN THE SUN
For the last 3 years I have had the honor of contributing to Pickleball Magazine with various cover stories, articles featuring players across the country, and sharing premier pickleball destinations. When Julie Talerico, editor of Pickleball Magazine, asked if she could have a writer do a story on my Pickleball in the Sun brand, I was completely honored. Jennifer Brozak told my story better than I could and when I first saw Julie had created a 2-page spread with the feature, I was speechless. Thank you, Julie.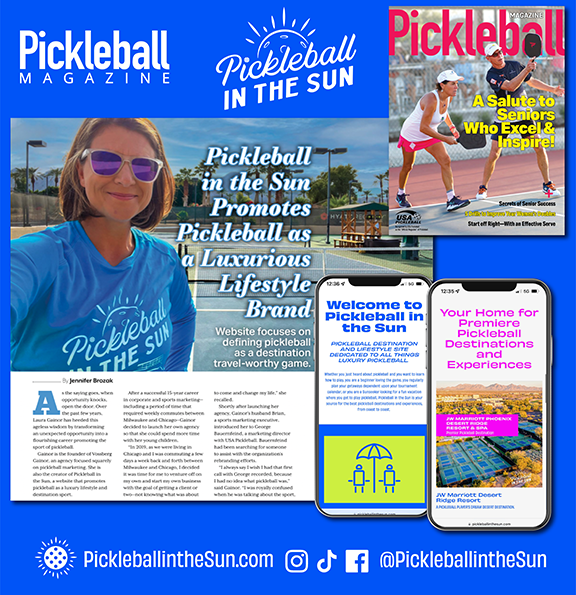 8. VISITING THE ORIGINAL PICKLEBALL COURT ON BAINBRIDGE ISLAND
The sport may feel new to some, but it originated in 1965 on a court in Bainbridge Island where 3 dads started the game to entertain their kids. I couldn't have been more excited to have had the opportunity to visit the original court as Governor Inslee signed a bill to make pickleball the Official State Sport of Washington. 
It was an honor to stand on the original court and take a photo with family members of the founders of pickleball. Thank you to the Bainbridge Island Pickleball Club members for being so welcoming. 
8 months later, another incredible honor to run into, Barb, one of the original family members at the airport bar while at the National Championships and have the privilege to talk with her about the early days of the sport.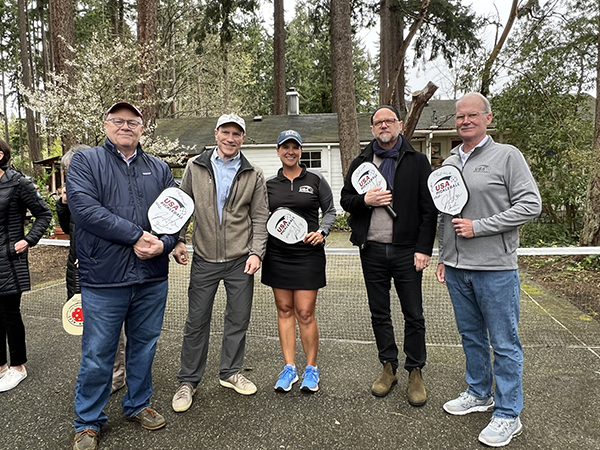 9. PICKLEBALL IN THE SUN TRIPS WITH FRIENDS COMPETING IN TOURNAMENTS
Since moving to Nocatee I have been so fortunate to meet most of my friends while on the pickleball court. What inspired the Pickleball in the Sun brand was a group of us regularly planning weekend getaways at unique pickleball destinations to play in tournaments. So many laughs, lots of pickleball playing, visiting new places and meeting new friends along the way to invite along future Pickleball in the Sun trips.
Highlight: Signing up for some pickleball blind dates in mixed doubles and meeting these great new friends!
Special shoutout to my partner Mia Azotea who I am thankful to have met shortly after moving to Nocatee, and since then we have trained at our local pickleball courts and won lots of medals together. More Pickleball in the Sun trips to come with this group!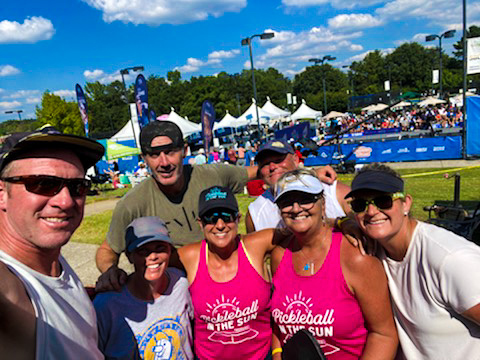 10. PICKLEBALL IN THE SUN SHOP FEATURED IN FORBES
When I wanted to create Pickleball in the Sun products to include in a Holiday Gift Guide, I reached out to friend and local Nocatee artist, Melissa Rinaldi of Go Coastal, to hire her to bring the brand to life with one of her unique paintings. The outcome perfectly visually represented the Pickleball in the Sun brand and featured on beach towels, blankets, drinkware and apparel.
Shortly after launching the shop, Lois Alter Mark featured the Pickleball in the Sun beach towel in her Forbes Holiday Gift Guide: The Best Apparel and Accessories for a Pickleball Vacation!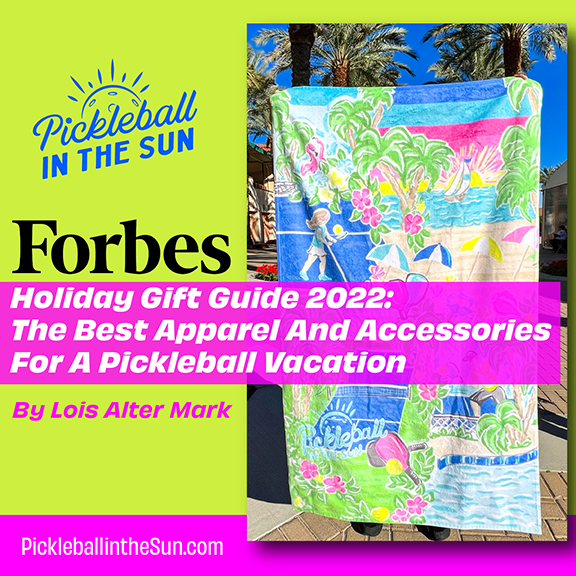 11. INSIDE THE PICKLEBALL BOOM: THE WOMEN BEHIND THE FASTEST-GROWING SPORT IN THE COUNTRY
The women behind some of the leading brands in pickleball never get enough credit! One of our top features Emma Masur and I got the chance to work on together was "Inside the Pickleball Boom. Meet some of the women behind the fastest-growing sport in the country." 
A chance to feature the following women who have helped make pickleball the fastest growing sport across the country: Melissa McCurley, Stacie Townsend, Blake Renaud, Hannah Johns, Rachel Simon, Aubri Steele, M.A., Catherine Baxter, Jillian Braverman, lori g manzer & Mimi Kuchman, Elise Ivy, Kim Bastien, Jodi Wujkowski and Lori Bosch. 
One of those women, Rachel Simon, launching a book this year about the sport, "Pickleball for All," where she interviewed players across the country to share their stories. I was honored to connect her with many of these influential players and for her to share my personal story as well.
Keep an eye on these women as they continue to bring so much value to the sport.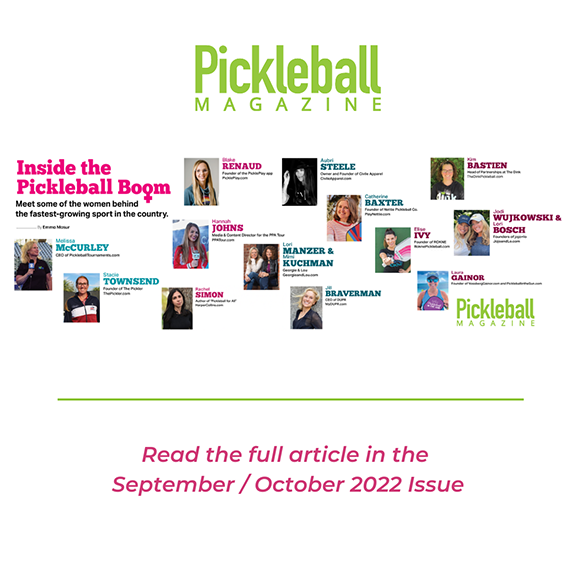 12. PLAYED IN THE 2022 US OPEN AND VACATIONED IN NAPLES WITH MY FAMILY
The Margaritaville US Open Pickleball Championships is one of the largest tournaments and pickleball parties of the year. The whole Gainor family headed to Naples for an amazing vacation and loved having them there to support Hope Tolley and I as we competed in the tournament for the first time. Such a must-see event each year with more than 2,000 players and vacationers enjoying the "Pickleball in the Sun" atmosphere.
Thank you to Bruce Yeung and Kerry Pittenger for frequently being my personal photographer on tournament trips 🙂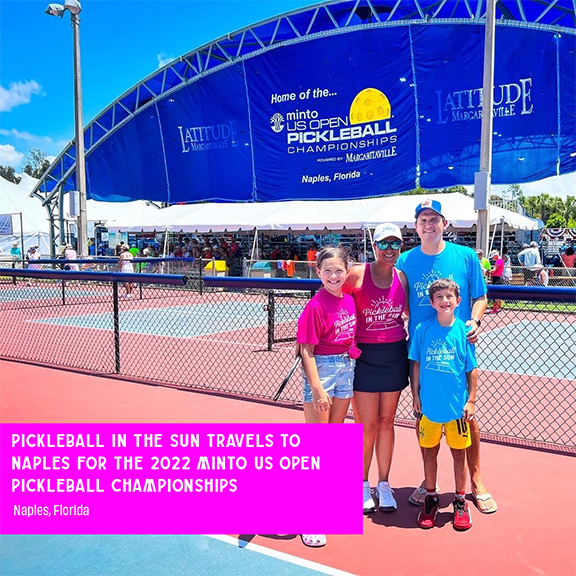 13. 2022 MARGARITAVILLE USA PICKLEBALL NATIONAL CHAMPIONSHIPS
One of the top highlights each year is getting the chance to visit the Indian Wells Tennis Garden to attend the "Pickleball in Paradise" event that is the Margaritaville USA Pickleball National Championships. An incredible week seeing some of the leading brands in the game and the leaders behind them, connecting with professional players that are growing the spectator interest as they show the athleticism needed to win the gold medals, and meeting amateur players across the country who are loving being competitive athletes and having a lot of fun doing so.
This year I had the opportunity to be a part of the media for my Pickleball in the Sun brand and be on Championship court with Bruce Yeung as the top player in the world, Anna Leigh Waters, earned her National Championship Triple Crown.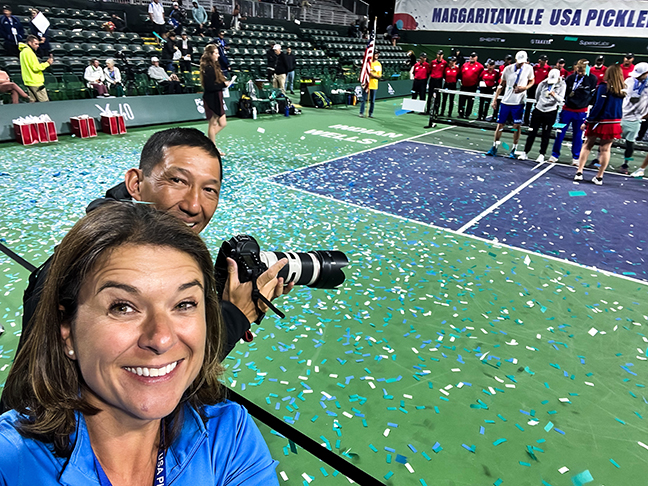 14. WISCONSIN'S AFTERNOON NEWS INTERVIEW: THE GROWTH OF PICKLEBALL
As Major League Pickleball hit the headlines this year with the announcements of celebrity investment after celebrity investment, I was a guest on Wisconsin's Afternoon News to talk with host and friend, Greg Matzek, to talk about the growth of pickleball. 
15. SHAPE MAGAZINE: WHY PICKLEBALL SHOULD BE YOUR NEXT HOBBY
It's no secret that pickleball is a great way to stay healthy and active. I spoke with Zara Hanawalt for Shape Magazine about why pickleball should be your next hobby and top players in the world, Leigh and Anna Leigh Waters shared how they have been building a booming career in the sport, while living healthy and enjoying the sport as a famous mother-daughter duo.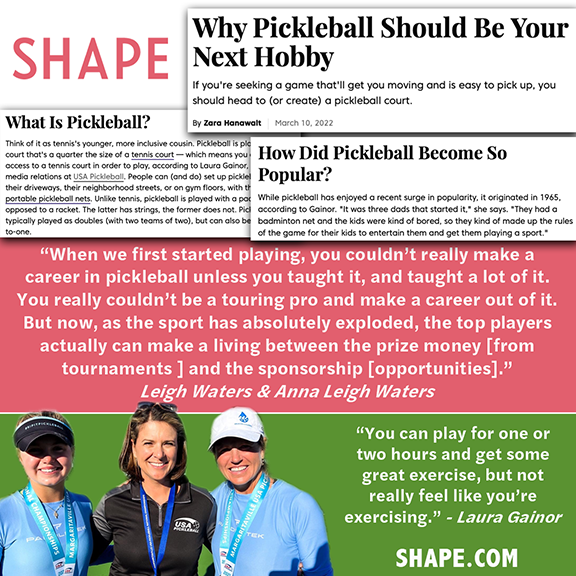 THANK YOU 
2022 was one of the most incredible years in my career thanks to my clients, new media relationships, friends met across the country while traveling for Pickleball in the Sun, and my friends and family for supporting this entrepreneurial journey.
Be sure to follow @VossbergGainor & @PickleballintheSun on social media as we have another fun year in store, and see you on the courts in 2023.