Major League Pickleball and the PPA Tour have announced a merger that is backed by $50M investment led by private equity firm SC Holdings and Financier/MLP Team Owner Al Tylis, along with PPA Tour Owner Tom Dundon and various MLP team owners.
I will share more in the days and weeks ahead as we learn more information about the merger and the future of professional pickleball.
Subscribe to Pickleball Marketing News: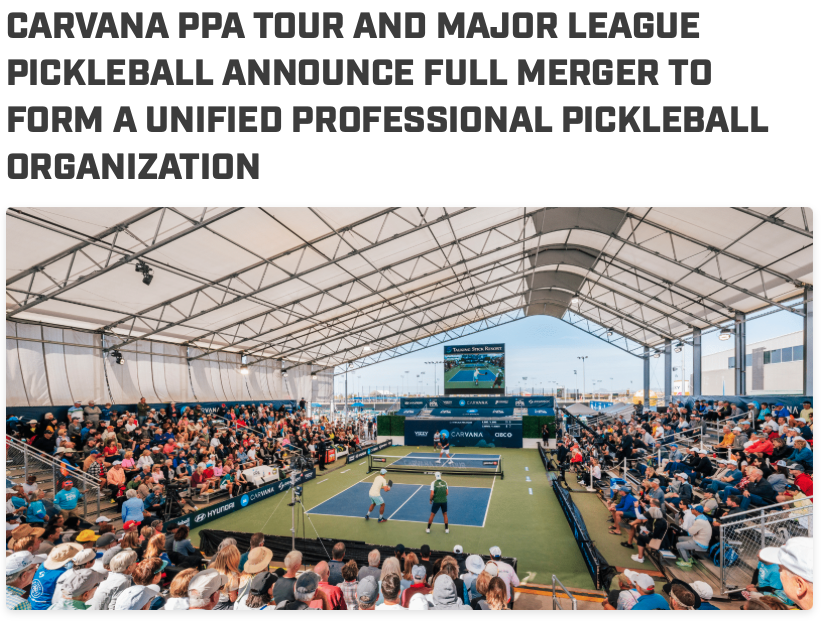 PRESS RELEASE: 
AUSTIN and DALLAS, TX., September 13, 2023 — Today, leading professional pickleball organizations MLP by Margaritaville (MLP) and Carvana PPA Tour (PPA Tour) announced an agreement to merge under a unified and definitive professional pickleball holding company. The consolidation of the two entities is backed by a $50M investment from SC Holdings, D.C. Pickleball Team owner Al Tylis, PPA Tour owner Tom Dundon, and a roster of existing MLP team owners.
The new combined organization will provide players, fans, and sponsors with the benefits of a streamlined schedule and single entity overseeing the two still-distinct brands. The merger combines the leading individual and team-based professional pickleball formats into a single parent company, equally supporting and promoting both MLP and the PPA Tour. The new holding company will provide players and sponsors great confidence and opportunity in the future of professional pickleball.
The PPA Tour is the traditional, bracket-style tour format that determines the best players in the world and showcases individual athletes and their unique journeys to reach the top.
MLP is the innovative team-based, coed league format that brings thrilling fan-centric experiences and competition throughout the regular season and championships.
"As professional pickleball continues to rapidly grow, we could not be more excited to provide both players and fans with the clarity and consistency of a unified professional pickleball organization," said Major League Pickleball Founder Steve Kuhn. "This merger will expand and improve opportunities for current and future players, creating a united experience and a better future playing professional pickleball."
"Over the past few years, we have seen ever-increasing interest from investors, sponsors, fans and players who understand the immense value in the future of professional pickleball," said PPA Tour owner Tom Dundon. "The holding company unifying the PPA Tour and MLP will create a streamlined sport for fans and add more meaningful opportunities for player competition, broadcasting rights and sponsorship throughout the professional pickleball calendar."
Professional pickleball fans will now be able to watch both exciting formats and the best players in the sport competing under one competitive umbrella, with the new unified organization boasting over 150 of the leading professional pickleball players and an extensive calendar of team and individual events throughout the year.
The parent company's board of directors and team owners include an impressive roster of business leaders, leading investors and professional athletes. The new board of directors will include: Jason Stein from SC Holdings, D.C. Pickleball Team owner Al Tylis, PPA Tour owner Tom Dundon, MLP founder Steve Kuhn , and former Goldman Sachs Partner Brian Levine.