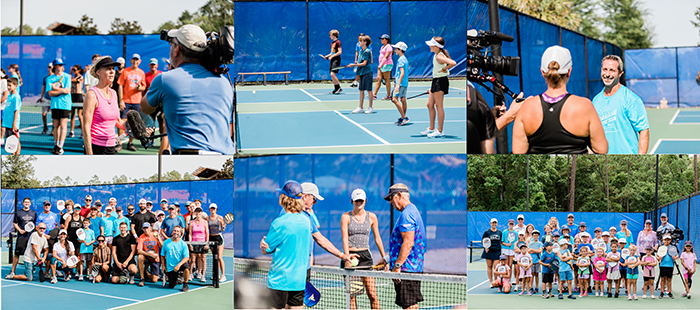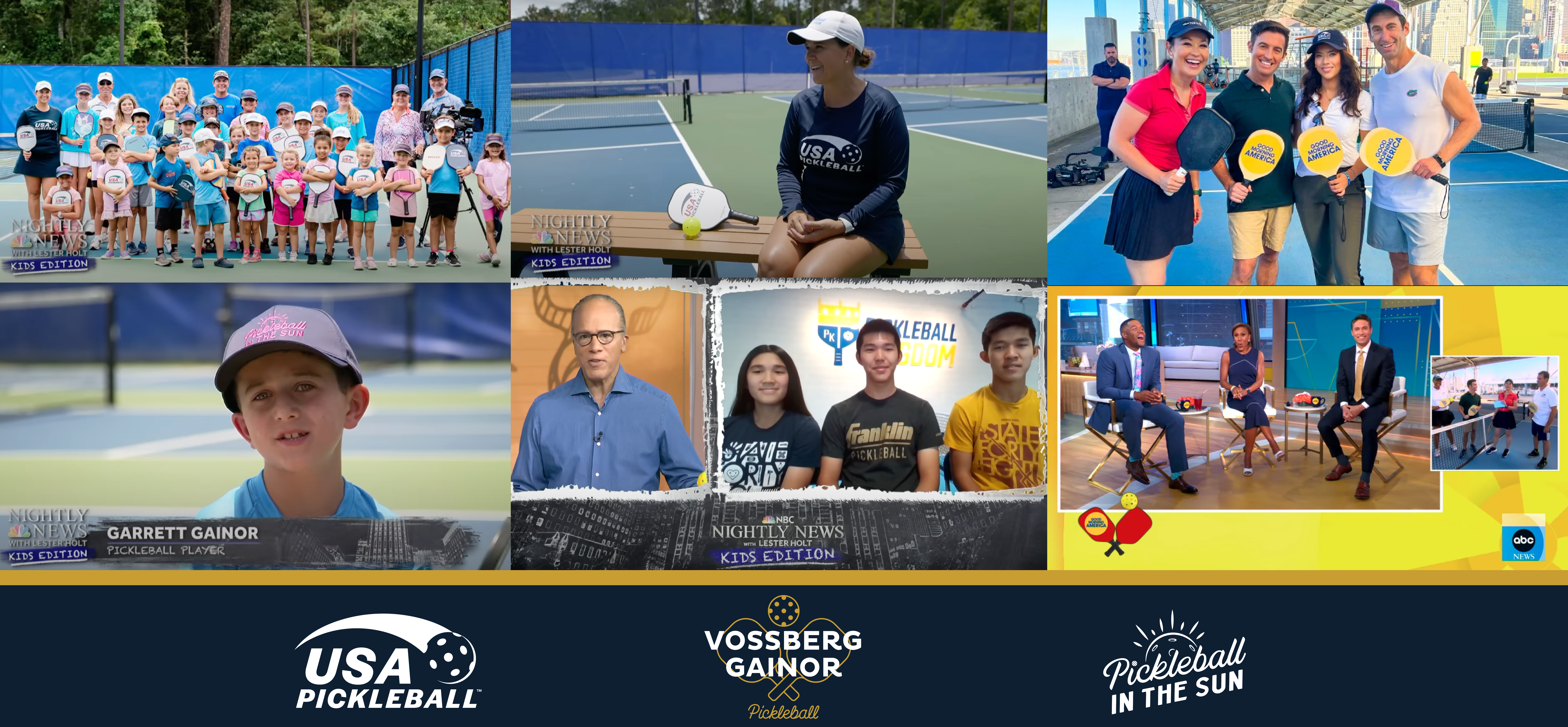 While the effort that goes into growing the sport of pickleball has numerous highs and lows, seeing the hard work and dedication of coordinating efforts with national media outlets to drive more awareness for the game, has always been one of the strongest driving forces in why I love what I get to do each and every day. The Summer of 2022 has been a tremendous high for my pickleball marketing agency,
Vossberg Gainor
, and my pickleball passion brand;
PickleballintheSun.com
! I feel so fortunate to be in the position to be able to share my love for the sport of pickleball and to be a driving force in getting as many people as possible across America to also pick up a pickleball paddle and experience the lifestyle it brings.
Over the last nearly 3 years since having USA Pickleball as a client, it has been thrilling to see so much exposure for the growth of the sport, getting the opportunity to work with talented entrepreneurs, and seeing those efforts highlighted on national television.
On Saturday, June 18th Lester Holt's producer reached out to USA Pickleball as they were working on a pickleball segment that focuses on kids telling other kids how to play the game to be a part of their show, NBC Nightly News with Lester Holt: Kids Edition.
I jumped at the opportunity, and in less than 24-hours time, we had arranged for their film crew to come to Nocatee, my home community in Ponte Vedra, Florida, and sent messages out to rally together more than 30 local kids to join us to film that coming Monday afternoon and have the chance to learn how to play with local USA Pickleabll Ambassador, Mike Guyot, and certified youth pickleball instructor, Ivan Ramirez.
The kids ranged from age 4-23 with varying levels of experience playing the game. With their true reactions of either playing the game for the first time or having fun playing multiple games with their friends, the pickleball showcase was a smashing success highlighting the game as a social, yet active sport of the summer. My passion project, Pickleball in the Sun, had the opportunity to represent the sport with USA Pickleball by showcasing the community environment that pickleball brings throughout all 50 States, while outfitted with Pickleball in the Sun gear and sporting their USA Pickleball paddles.
In addition, professional pickleball photographer, Bruce Yeung's kids spent 5 minutes easily explaining the game to other youth as to why they love the game, who can beat their dad in a game, and how to get started as a young player.
The day after filming for NBC Nightly News, Good Morning America contacted us and once again, I sent out a message to our loyal Nocatee pickleball community and this time asked for any and all to join us to film a segment for GMA at our local pickleball courts, and within minutes we had more than 30 players set to meet us at the courts just two hours later to play pickleball and do on-camera interviews. The goal with this segment was to teach players how to play the game, as well as discuss the community engagement aspect of the game as well.
For the live filming, I worked with the GMA producer to coordinate for the crew to film at the Brooklyn Bridge Park courts, thanks to Sarah Krauss, as their beautiful new courts with views of the New York City skyline had just opened.
Once aired on June 29th, the segment was filmed live in New York City at the Brooklyn Bridge Park with GMA correspondents Eva Pilgrim and Will Ganss as they learned how to play the game with USA Pickleball Ambassadors, Paul Curiale and Amote Sias. Paul and Amote rallied local Brooklyn players to join them for the on-air play time and lesson.
The full segment featured clips from other pickleball enthusiasts, including Nocatee interviews with my son Garrett and Barry Sams.
We were also fortunate to have pickleball player and social media correspondent, Tara Bernstein, volunteer her time and talents to be a part of the live filming in New York City and share a behind-the-scenes look at Eva and Will's reactions to learning how to play pickleball for the first time.
As I continue to build my career and utilize my expertise in media relations and experiential pickleball marketing, I am so excited to have opportunities such as NBC Nightly News and Good Morning America to continue to shape my career. Thank you, always, to those at USA Pickleball for their continued support over the years. And thank you to our Nocatee community for being at the ready and providing the courts for these incredible features. These two media hits have been two spectacular highs for my businesses and I, and I am thrilled to see what the future holds in the coming months and years for Vossberg Gainor and Pickleball in the Sun.
Special thanks to Maris Kirs Photography for joining us for both filming days to capture behind-the-scenes photos of our Nocatee pickleball players!
NBC NIGHTLY NEWS WITH LESTER HOLT: KIDS EDITION
Behind-the-scenes photos by Maris Kirs Photography from the June 20th filming for NBC Nightly News in Nocatee, Florida.
GOOD MORNING AMERICA
Behind-the-scenes photos by Maris Kirs Photography from the June 21st filming for Good Morning America in Nocatee, Florida.