Pickleball just got hotter! Congratulations to Vossberg Gainor's client, Real Dill® Pickleball Clubs who have officially announced their brand with two locations currently in development and more to come.
Read the full press release below and visit PlayRealDill.com to learn more about their clubs. Follow @PlayRealDill on Facebook and Instagram.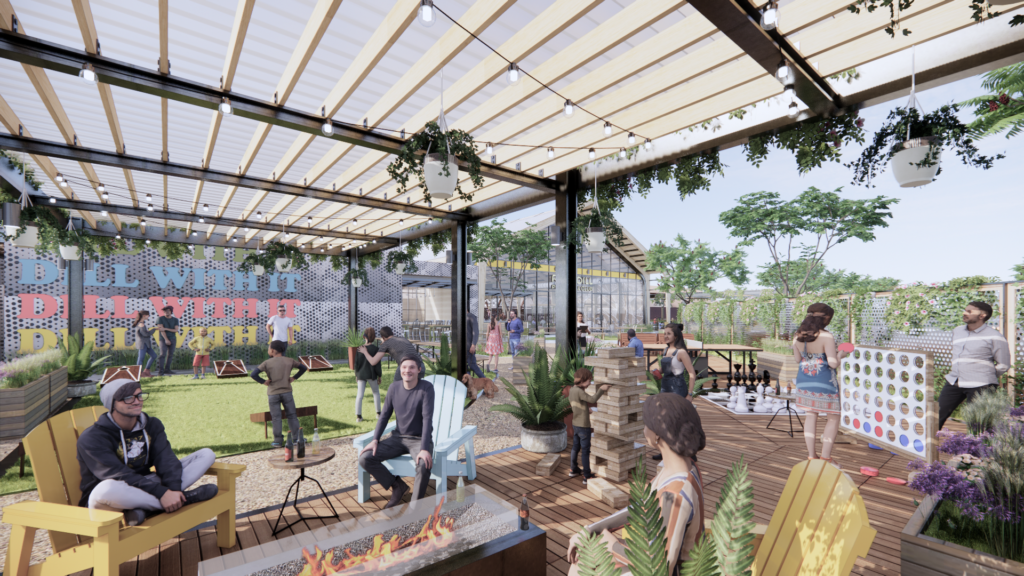 For The Real Dill® Pickleball Clubs' logo files, images, and FAQs, please find the PRESS KIT on Dropbox.
Aimwell Development Co. Announces Launch of The Real Dill Pickleball Club
A premiere pickleball sports entertainment venue and restaurant to open in summer 2023
CHICAGO, April 28th, 2022 – Today, The Real Dill Pickleball Club, a sports entertainment venue that will offer dedicated courts for playing the sport of pickleball, announced the launch of its first two locations. The Real Dill will launch its first facilities in St. Louis, Missouri, and Columbus, Ohio, in the summer of 2023. Founded by Aimwell Development Co., a real estate development firm based in Chicago, Real Dill Pickleball Clubs are supported by the investment of pickleball enthusiasts and are targeting five development properties in the United States this year, with the goal of becoming the premiere facility to help grow the sport.
"We couldn't be more excited to help facilitate the growth of pickleball by building inclusive clubs that encourage real social connectivity," said Todd Reed, Managing Partner of Aimwell Development Co. "The Real Dill is a hospitable environment where the pickleball community can grow their network of players and drive their competitive and social spirit."
Each Real Dill venue will have 8 to 12 pickleball courts available on a reservation-basis and will be designed to accommodate both the avid pickleball player who engages in competitive play, as well as the recreational player who plays mainly for the purpose of entertainment.
Aimwell Development Co. leadership brings more than 22 years of experience in developing hospitality and hotel concepts around the United States. Patrons of the Real Dill will enjoy the following amenities:
Social and competitive leagues, tournaments, and events
Top quality food and beverage offerings that compliment club type setting
A hospitality focused customer service model
Outdoor space for socialization and game play
Family entertainment center with games for all ages
Opportunities for pickleball lessons and private instruction
Health & wellness offerings and group classes for physical conditioning
The Real Dill in St. Louis will open in the summer of 2023 at The District, a one-of-a-kind entertainment destination with live music, family friendly attractions, food, and retail offerings. Alongside other premium attractions such as The Factory and Main Event, The Real Dill will operate as a local favorite and core tenant of The District. .
The Columbus location will be built in the first phase of construction for The Galaxy at Polaris. The original Polaris Center includes over 9 million square feet of retail, hospitality, office, and multifamily properties. The Real Dill is slated to open at Polaris in the summer of 2023. The Real Dill was represented on both properties by Cary Taylor of Crossroads Real Estate Group.
"We are hospitality people, and we have spent our careers creating environments in which people feel both welcomed and energized," Reed explained. "The Real Dill is a place where groups may enjoy professional customer service and a food & beverage offering suited to compliment an active mindset. Our focus is on keeping things simple and doing them exceptionally well."
To learn more about The Real Dill Pickleball Club, visit PlayRealDill.com.
Follow @PlayRealDill on Facebook and Instagram.
ABOUT AIMWELL DEVELOPMENT
Aimwell Development, founded in 2019 is a boutique firm with the company leaders bringing more than 22-years' experience, focused on real estate development and investments in the hospitality, residential, and retail sectors. First developing concepts with a blend of innovative thinking and thorough analysis, then having a thorough understanding of the key factors that affect success, Aimwell Development is able to identify unique opportunities and mold them into viable projects.
Their experience developing projects that are both highly unique and sustainable guides the decision making throughout the process. As a result, work stands out as being distinctly suited to its environment and integral to the growth of the surrounding community. For more information about Aimwell Development Co., visit PlayRealDill.com.
ABOUT THE REAL DILL PICKLEBALL CLUBS
The Real Dill Pickleball Clubs are facilities designed to provide a welcoming, social, and active environment for the recreational and competitive pickleball players., Each venue will feature up to 12 courts for reserved play, competitive tournaments, ladders, professional coaching and lessons, as well as an inviting space for spectators to enjoy the game. Every location will feature an on-site restaurant and bar with a menu conceived to compliment the active nature of playing pickleball. Each entertainment venue is designed with multigenerational entertainment in mind and organized so that families are offered something for every age and interest including video games, wiffle ball, ping pong, shuffleboard, and much more.
For more information visit PlayRealDill.com and follow @PlayRealDill on Facebook and Instagram.
Contact
Laura Gainor
[email protected]
704-941-4191